Client Testimonials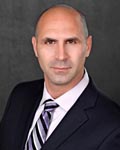 Riccardo Badalone
CEO, Diablo Technologies
"As a startup introducing a disruptive, game-changing technology, we needed to gain mindshare quickly. JPR was highly recommended because of their specialization and success with startup companies. We could not have anticipated the amount of analyst and journalist calls we'd have, or the immediate, positive and constant buzz that was created and continues to date. JPR delivered much more than expected and quickly moved us to the forefront of our technology segment. Their relationships, experience and personalized service they deliver are unbeatable."

Tony Barbagallo
Vice President of Marketing, Skyera
"Being in a hot market (solid-state), having a powerful executive team and setting new benchmarks in performance are attributes any company would envy. But getting this great story out to industry influencers, bloggers and journalists is the task we assigned to JPR. From the outset, we felt like we had expanded our marketing team. The time and effort they put in on our launch has continued with no break in their dedication, support and knowledge. The results have been amazing and the team is always fun to work with."

Rich Boberg
CEO/Cofounder, IO Turbine
"A company coming out of stealth mode with a disruptive technology needs more than a knowledgeable PR agency. It needs a seasoned group of professionals who work side by side with your executives on strategy, positioning, messaging and then make sure that the most influential people in the industry hear about you, appreciate the uniqueness of your technology and give you instant visibility and credibility. This is what we signed up for and what we received. More importantly, we found a group of people who became part of our marketing team who are firmly dedicated to our success."
Rob Commins
VP of Marketing, Tegile Systems
"Working with JPR has been nothing short of fantastic. Qualitatively, they know the market better than most product-marketing managers and are extremely well regarded by vendors, press and analysts alike. Quantitatively, I have seen massive increases in readership, online click through and inbound traffic to our website since engaging with JPR. Equally important, the entire team at JPR is down right fun to work with. While we work very hard and at high velocity, we never forget to laugh and enjoy what we are doing."

Holly Frost
CEO, Texas Memory Systems
"When TMS decided it wanted to bring in a PR agency to make a lot of noise and take our company to the next level, we reached out to many of the industry's top influencers for recommendations. I picked JPR Communications because everyone knew and respected them. Also, many of their client companies had been acquired in a few years after Judy's 'magic marketing.' After bringing JPR into the TMS family, I can say it was one of the best decisions we made as a company. Their aggressive strategies, strong relationships and tenacity quickly moved us into the spotlight and led to increased sales and the eventual acquisition of TMS by IBM. What a great firm and fun team to work with!"

Mark Goros
CEO, Caringo
"JPR Communications; simply the best Public Relations group on the planet. They bring us leads, keep us at the top of our game and often take the role of an entire marketing department. You won't find a company with a better pool of talent. When I work with JPR, I could swear I'm the only client they have (or at least the most important one on earth!). After 30 years in the business, I can say without reservation, that it just doesn't get better than JPR."

Mike Ivanov
VP Marketing, Permabit Technology Corporation
"JPR was key in elevating our messaging and positioning as an OEM provider of data efficiency solutions. Judy and her team have been able to open doors with both industry and financial analyst firms and help us drive our messaging to the broadest applicable market available. They're great to work with, have incredible knowledge of the storage industry and have hit every deadline to date!"

Steven Lamb
Formerly CEO, NEVEX Virtual Technologies
"Securing JPR was a definite coup for NEVEX. As a start-up, we needed a PR agency that specialized in the storage industry and was experienced enough to hit the road running. Judy, with her extensive network of analyst contacts, was able to arrange several Tier-one briefings for us, often at short notice, and her network of media contacts ensured we were constantly in the news. If you're a startup looking for a PR agency with a thorough understanding of the storage market, one that is attentive to client needs and has a long string of successes behind them, look no further than JPR. I heartily endorse Judy and her team."
Diamond Lauffin
Founder and CEO, 22dot6
"The key tool in achieving dominance is establishing excellence in the relationships you form, their strength, their longevity and ultimately the results you achieve with those relationships. As the co-founder of Nexsan Technologies, I personally worked with JPR over six years, establishing excellence and growth in an area where none existed. This growth was largely based on JPR's contribution to the plan. Today, I am again happily working with the team I consider to be the best of the best. I have come to expect, based on JPR's professional, energetic and enthusiastic approach, that the perfect product pitch, messaging and company positioning statements will be delivered on time, in time, every time. I place great value on JPR's honesty, tenacity and dedication and recognize these qualities have provided a key contribution to my success."

Amar Rao
VP Business Development & OEM Sales, Maxta
"We did our due diligence before selecting an agency for the official launch of Maxta and agreed that JPR was the best fit for us. After our first meeting with the JPR team, we were convinced that we made the right decision. This a group of hardworking, aggressive and knowledgeable people who understood immediately our market, our disruptive technology and what we were bringing to market for the first time. Our pre-briefings were numerous and every journalist and blogger we spoke to wrote up our company the week of the launch. If you're looking for an agency dedicated to your success and generating more results than you planned on, JPR is the agency for you."

Rick Walsworth
Director, Product Marketing, EMC
"JPR is by far the most professional full service marketing communications agency that I have ever had the pleasure of working with. JPR consistently demonstrates strong return on investment and continues to be a tremendous asset."